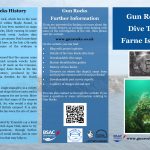 The Gun Rocks Archaeology Leaflet: In February 2018 the Gun Rocks Leaflet was picked up from the printers as a final version. The leaflet will be available in dive shops, tourist information centres in and around Seahouses and the north east. The aim of the leaflet is to give some basic information about the Gun Rocks project, to pique interest and to direct the reader towards this website. Just click the picture to down load the 2 sided tri-fold leaflet.
The Dive Trail Map: The dive trail was installed on the 4th May 2018 and then dived by Tyneside 114 BSAC on Monday 7th May. The downloadable map shows the dive trail on one side, as it spiders out in three directions from the central point. The reverse side of the map give some information about six of the cannon on the site, the biggest and smallest cannon, the Swedish cannon and the location of the British cannon and so on. The map can be printed at A4 or A5, cut the corner, laminate it, then punch a hole in the corner, attach string and go diving. Happy days!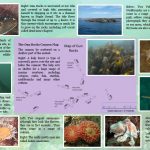 The Marine Life Leaflet: Just before Easter 2018 the Gun Rocks Marine Leaflet was sent to the printers. It has now been printed, folded and all 500 delivered. The archaeology leaflet was mainly in blue, so the marine life leaflet has more of a pink hue to it. Both leaflets are set out in a similar format, with the cannon map forming the backdrop to the centre page. Both will be made available locally in dive shops and tourist outlets. Just click on the picture to download the leaflet in PDF.