Time line summary: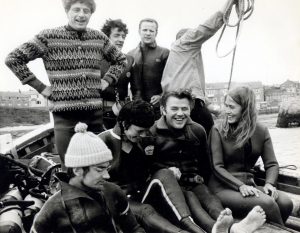 Tyneside 114 (a local branch of the British Sub-aqua Club) has had a close association with Gun Rocks since the late 1960's, when the Diving Officer at that time, Mr W.R. Smith (known as Bill), became interested in the history of the cannon and finding out more. Through his enthusiasm, the Gun Rocks Project was born. In 1970 the project was launched, a cannon was raised, ITV filmed a series of news reports on the findings and a report on the findings was produced by Bill Smith.
But questions still remained unanswered…. namely what was the origin of the boat, where did all the cannon come from?
In 2010 Andy Hunt Diving Officer (at that time), started up the Gun Rocks Project II to celebrate the 40th anniversary of the initial project. One of the aims of this project as to try and identify the name of the wreck and to re-map the cannon locations found in the 1970s. Maps were produced and some artefacts were found, but still the identity of wreck which deposited the cannon remained a mystery.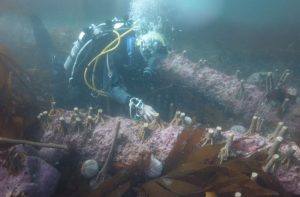 Following the Gun Rocks II project, in 2013 Wessex Archaeology (WA) was commissioned by Historic England (HE) (previously English Heritage) to undertake an "Designated Site Assessment " of the site. WA and HE worked closely with Tyneside 114 members, to further uncover the secrets of Gun Rocks. A close working relationship which continues to this day. New cannon were found and the new technique of photogrammetry was used. The information gathered generated yet more questions.
Why are English and Swedish cannon all lying in the same location? Is some of the damage noted on the cannon due to erosion or previous firing action?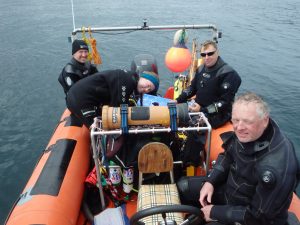 As you can see, Tyneside 114's involvement with Gun Rocks has been on-going for 46 years now. In 2015 Nicola Faulks (current Diving Officer) decided to try and sum up all of the research work done to date. This resulted in the writing of a report called "Gun Rocks Cannon Site". The report brings together all of the research information gathered to date.
Through this website it is hoped that the information contained within the report can be brought to life and made more accessible. The report won the BSAC Wreck Award in 2015, but rather than putting to bed all of the research done to date, it has spurred on more activity….
Through funding applied for in late 2016, sufficient funds have been raised in order to take this project a step further. The funds raised through Crowd Funding, BSAC Jubilee Trust and Heritage Lottery Fund, are enabling a number of activities to be undertaken in 2017 including: the creation of this dedicated website, the installation of a diver trail so divers can see the cannon of Gun Rocks, a video archive of the 1970 ITV film footage to be put together, and for interviews with the surviving 1970s team to be recorded for the future.