On July 30th 2017, we took the club rhib out for what we hopped would be a concerted weekend of diving on Gun Rocks to clear some of the cannon of seaweed, to photograph them and to work out how much rope we needed for the trail. Unfortunately the weather gods weren't so obliging with us, nor was the moon god with her tide timings.
We did manage to get two dives on Gun Rocks on the Saturday, clearing a couple of cannon and looking at the best way to get the trail laid. This was Paul's first dive on Gun Rocks, so he was given a full guided tour of all of the cannon, including the new find from last month by Simon.  It was all a bit swelly so it made taking photographs very difficult and the visibility wasn't great.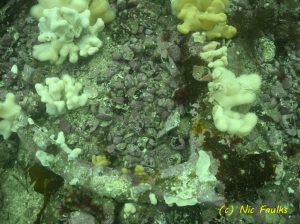 On the Sunday, Si and his buddy did their first dive on the Gun Rocks cannon, clearing the way for the trail to be laid as soon as the MMO licence is granted and checking that the marker buoy was safely attached. (Something we can put in for 28 days without a licence).
After their dive, Nic and Paul caught slack in the sound. This dive is always a challenge, partly because you never quite know how long slack will last and secondly because the sea bed in the sound is quite featureless, making navigation quite difficult.  We located seven cannon in the sound, all remarkably deteriorated, on the flat sea bed. We then found an Admiralty pattern anchor, which appeared to have had one side snapped off. Took lots of photographs of this.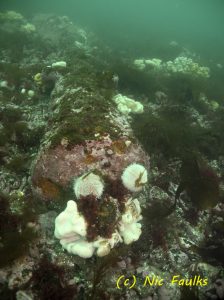 Then…. then…. on the way back towards the shallows of Gun Rocks we found an 7th cannon lying in the sound!! It is positioned at the bottom of the slope, just below the main cannon site. Due to the swell and wind I couldn't mark it, but took photos and tried to fix in my mind where it is, so I can find it next time.
With Si's find last month (the 14th cannon on the Gun Rocks site) and this find, that takes to number of cannon across the two sites (Gun Rocks and Staple Sound) to 14 +7 = 21 recorded cannon. The new finds also link the two sites more closely – there now is probably not more than 20 metres between the canon originally found in the sound and those on the shallow Gun Rocks.
It just seems that every time we dive this site we find something else. One day maybe we will solve the mystery of the ship which sank with such a range of cannon on board.