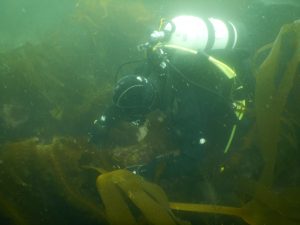 A team of intrepid divers set out on the 26th May 2019 in the rhib to visit Gun Rocks to clear the trail, install the marker buoy and check the trail ropes. The forecast wasn't the best, but we hoped to get at least one dive in before the wind built up. In addition to which, the tide would be on the ebb most of the day, but with an early arrival, the site should be diveable. The ebb tide runs south to north, so the rocks of Gun Rocks do not shelter the site from the current. Flood or slack is the best time to dive the site, however needs must.
We arrived at the site on high tide, all rocks covered, but were able to shot the main site. Descending down the line with the new buoy in tow, Simon tied it in so there is now a new shot (with a can on top) marking the site. The previous one washed off last year. The site was looking so overgrown, it took a bit of time to get our bearings. How fast the kelp grows, its unbelievable! So out came our knives, just to take the kelp off the cannon, so they can be seen, and a little bit from either side of the trail lines.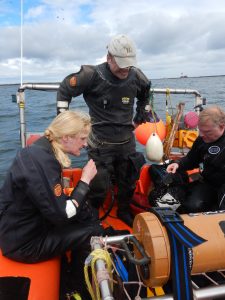 The trail remained intact all winter. The blue rope is now quite faded, but still can be seen on the seabed. Hopefully now, after a full and frantic hour of trail clearing, it will be much clearer to see and easier to follow. More work is needed though, those pesky kelp plants (Saccharina latissima, Laminaria hyperborea, Laminaria digitata and Saccorhiza polyschides) do grow quite rapidly and had already covered most surfaces (stone and metal).
By the time we came up and back on to the rhib, the tide had quickened and the swell increased. This meant that the second wave of divers could not dive Gun Rocks, to continue the clean up. Instead we sought shelter along the cliffs and the three divers were dropped on to the St Andre – a great all weather wreck dive.
Unfortunately, the problem we have now is that my car has died, so I have had to get a new one, small enough not to get "done" by the upcoming clean ear charge in Newcastle. So basically it has no tow bar and couldn't tow the rhib anyway. Hmm, what to do? For now, this means that the trail will remain as is, until we can return to finish the kelp removal, and as i have hoped to do in August, get some metal detecting done on the site, to see what else lies down there. Unless someone with a tow bar on their car wants to help us…..